How to look tall in the photos?
Posted on August 11 2016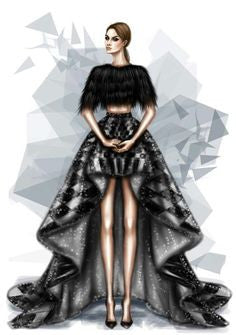 Have you ever looked in the mirror and realized that today you are having a 'good fashion day' – and right at that moment, you ask your friend to capture this wonderful outfit, in hope for a good 'OOTD' photo to post on Instagram. You pose, they shoot – and then comes the time to check the photos. At that moment, your dreams of a 'blogger style' photo collapse as it  just doesn't look 'right'. Frumpy and out-of-proportion are what your photos are made of.
Rather than shooting straight on, trying lowering your camera slightly and tilt the angle up instead. This way, your 'I didn't work out for a month' tummy won't be the center point, but your upper torso is in focus. This also increases the distance between the lens and the model, which means you're stretched slightly in the most natural way. The end result? Look thinner and taller! I mean, we're all about self-loving but who wouldn't want to be an inch taller and an inch thinner, right?
Your legs are going to be what make you look the tallest. So, show them all you've got with a mini skirt (keep it classy though)! On the contrary, a maxi dress/skirt will also give an illusion of height if you wear it with heels of a similar colour. Maxi dresses/skirts are usually long enough to cover where the shoes are, so it'll be ambiguous where your legs end
Using color to enhance the illusion of height is a highly effective strategy, as it helps create a vertical line. While wearing head-to-toe black is the simplest—and eternally chicest—option, saturated hues work well, too. The trick to monochrome dressing: Keep each silhouette crisp and tailored.


SAY YES TO HIGH WAIST BOTTOM
High-waist bottoms can trick the eye into thinking you're taller by elongating your lower body. Whether you choose skirts, shorts or skinny jeans, be sure to make the elevated waist visible by tucking in a tailored blouse, or opting for a slightly cropped top. Not only is the high-waisted trend in fashion now, it also makes your legs appear as if they start higher up on your body. This trick only really works if you pair the high-waisted bottom with a shorter top though.

CHOOSE HEELS WITH LOW-CUT VAMP
Shoes that have a low-cut vamp instantely elongate your leg and make them look slimmer, as well when you're wearing skirts, shorts, and dresses.
What's a vamp? It's the portion of a show that cuts across your foot at the front. So, a low vamp cuts across the base of the toes, while high vamp can come up the foot and possibly up to the ankle. If you're able to find a pair that matches your skintone, like the image above, that's even better to give the illusion of mile-long legs.
It's the oldest trick in the book for a reason: Vertical stripes create long lines, thus making you look, well, longer. Bonus: Stripes are one of spring's biggest trends, so you'll have absolutely no problem locating some cute striped options.

 Let's face it, we want to be able to look tall even without heels on sometimes. Fear not, you can still look tall while letting your feet rest! What's great about flats is that they are light and comfortable, and easy to tip-toe in. Not only is it a good workout and makes your legs appear more toned, it also helps add height
PHOTOGRAPH FROM BOTTOM UP
 Always have your photographer photograph you from bottom up, or a lower angle whenever possible, to create an illusion of longer, leaner legs. Photographing from top to bottom, unless done correctly and with skill, may make you short and vulnerable.
 I swear by this rule. It works every time. I noticed that when I pose with my feet/legs side by side, I look a lot shorter than when I cross my legs. I guess it's something about those legs put together forming one line that gives the illusion of length.