Our Designers' Top 10 Favorite Looks
Posted on July 19 2017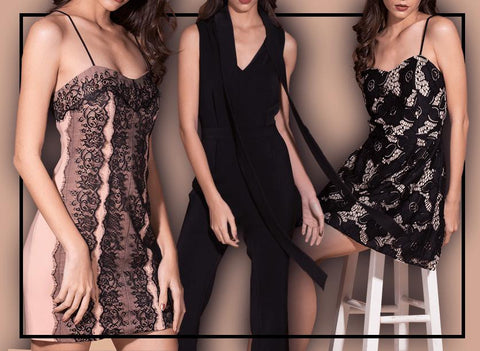 Hey, Babes! So far, 2017 has been a great year for fashion. From head-to-toe patterns to single, bold hues. From modern futuristic to classical pieces, 2017 has been an experimental ride. 

2017's been one of Miss Modern's best so far, with 2 collections already released, and more in the works. 

We decided to recognize our favorite Miss Modern looks, counting down from number 10, with our designer's Special Mention at the end, as she goes through her favorite pieces!
10. A Lot Like Love Lace Dress


This sultry, sizzling piece is adorned with delicate lace in a beautifu, floral pattern. Featuring the most feminine silhoutte, it's romantic appeareance just begs to be taken to an intimate, candle-lit dinner.
9. Petra Jumpsuit


Petra Jumpsuit is just one of those pieces you can throw on and go. The ribbonesque scarves that hang from the neck are such an accent they class this jumpsuit into a fashion statement with eloguent simplicity.
8. Baby Floral Dress


This floral, spaghetti strapped dress is great for lounging in a summer breeze. With accents of cream peaking through the floral lace, it wears well in formal and informal settings.
7. Forget Me Know Dress


With sexy, peek-a-boo side detailing, this little number is the perfect black little dress. The crisscross pattern and elegant tassles upgrade the otherwise simple, sleek look.
6. All For You Dress


All For You is a sleek, simple dress with classic appeal. The light, lace detailing on the heart neck-line draws the eye to your best features in this romantic little piece.
5. Silent Charming Playsuit


As minimalist as they come, this playsuit is a must-have for summer. Its flowy, soft fabric breathes in the summer heat, while you stay cool and cute.
4. Play Me Blazer & Jumpsuit


This jumpsuit is sweet and sophisticated. It's a summer staple with it's playful shorts, and worldly blazer. Easy to dress up, or down, it's fabric and tailoring are both soft and comfortable.
3. Begin Again Top


With beautiful, generous ruffles at the top, this top is surely an eye-catcher. When accented with a statement necklace, it quickly upgrades from daywear to nightwear with ease.
2. Love Wonder Jumpsuit


This playful, ruby playsuit is both sexy and charming. The elegant waist-tie and crisscross straps add detail to an otherwise minimalist and modern look. Tie it in the front, side, or back for an irresistable hour-glass figure.
DESIGNERS PICK:
Keep It Secret Dress


How could we forget our Designers Pick: the Keep It Secret Dress - in Black! Simply beautiful, this piece features a drop neck-line to show your favorite features in an alluring lace detail. A tailored waistline means this piece will pull you in in all the right places, creating that va-va-voom feminine figure we all want.
1. Take Care Bustier & All The Way Pants


This dynamic duo comes together in a look that's both eloquent and modern. In all white, it combines professional and stylish in an unbeatable combo. Find them here and here.