9 Photogenic Makeup Tips that Make You Instantly More Gorgeous in Pictures
Posted on August 17 2017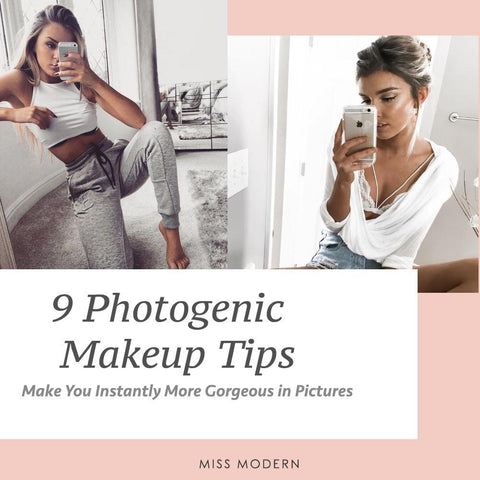 Like it or not, we live in a highly photographed world. We don't always have control over when we'll be ambushed with a camera  or know what the lighting will be like but we can make sure our makeup is photo-ready at all times. Here, nine tips that ensure you won't ever look greasy, tired or washed out.
Clear eyes, full hearts, can't lose. But seriously, the clearer your eyes are, the brighter the rest of your face will look. Squeeze a few cooling eye drops into each peeper before you start applying your makeup.
Fact: Soft, hydrated skin equals a seamless foundation application. What does this mean to you? No uneven streaks or creasing as it wears. After washing your face, slap on a sheet mask for ten to 15 minutes while you get ready. Or apply a generous layer of your regular moisturizer and let it sink in for a few minutes before wiping off any excess
MAKE SURE YOUR FOUNDATION IS AN EXACT MATCH
Here's the deal: If it's too pale, you'll look washed out when the flash hits, and if it's too dark, you'll look a bit muddy. (Always test shades along your jawline in natural light.) As for the formula, you want something with light to medium coverage. And if you're prone to shininess, sweep a simple translucent powder over your T-zone before heading out. (Skip the fancy HD-they have ingredients like silica and mica that can be too reflective.)
We hate to break it to you, but a million layers of concealer won't hide that zit from the camera. In fact, it might bring more attention to the area. Instead, use your ring finger to lightly tap a small amount of concealer (again, one that matches your skin tone) over the spot and stop fussing with it after that.
The number one secret to photogenic skin? Lighting. Fake the effects of flattering light by dabbing a pearly shadow or highlighter along the top of cheekbones, down the bridge of your nose and at the inner corners of your eyes. Just be light-handed with the application, as too much shimmer can come across as greasy in photos.
After all, they frame your entire face. Choose a pencil or a powder that is one shade darker than your actual brows (your features tend to look lighter in photos) and use short, light strokes to fill in any gaps between hairs.
Forget the smoky eyes if you really want to stand out. Instead, sweep a neutral shadow onto your eyelids. Then apply a dark brown or soft black liner to only the outer thirds of your upper lids. (Skip the bottom altogether; liner on your lower lids can make your eyes look smaller.) Finish by curling your lashes and adding two coats of mascara to make your peepers look wider and brighter.
While it's true that some subtle contouring can slim your face and certain features, there is a lot of room for error. An easier (and more foolproof) way to sculpt your cheeks--while adding color to your face--is to apply blush to the hollows of your cheeks and then blend it up toward your cheekbones.
Dark lips may be super-trendy right now, but unfortunately they tend to make lips look thinner. For a better photo, stick to a brighter cheery red and add a touch of gloss to the middle of your bottom lip to give it a plumped effect.